Bis(2-Chloroethyl)amine Hydrochloride
(CAS NO 821-48-7)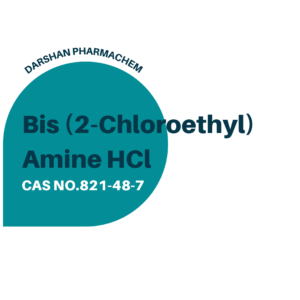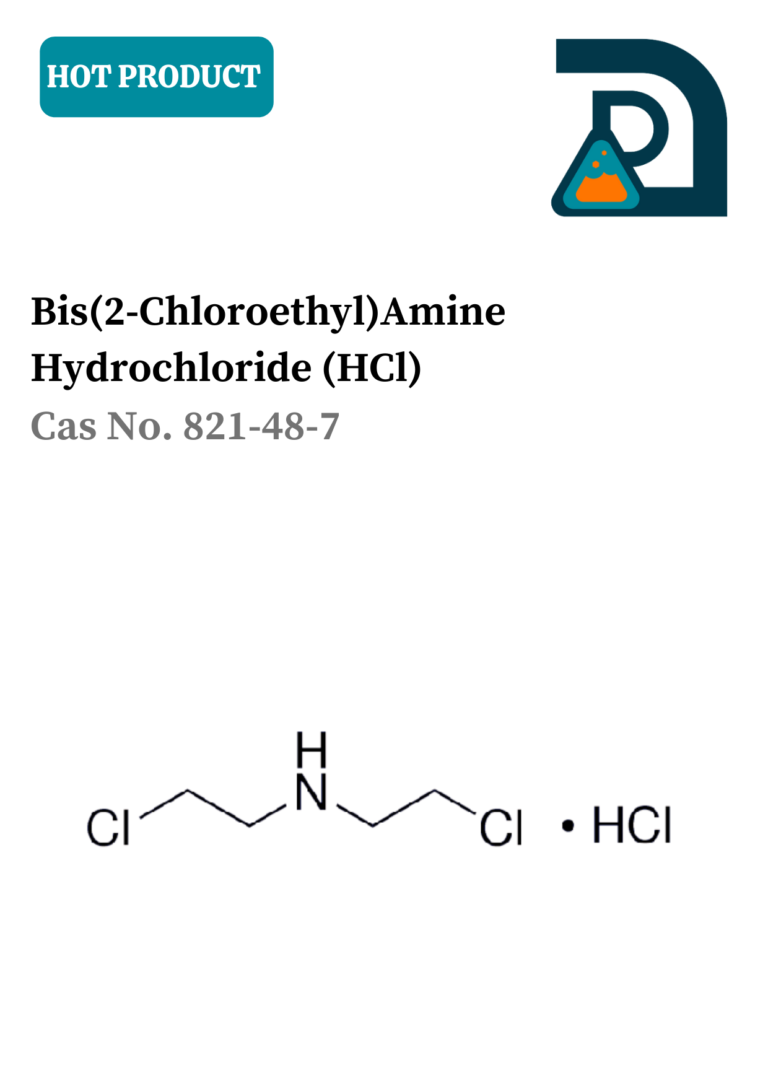 Darshan Pharma Chem Pvt Ltd takes pride in being one of the most reputed manufacturers in the healthcare industry. We believe in producing nothing but the best, which is why our Bis(2-Chloroethyl)amine Hydrochloride (Bis salt) stands out as a top-quality product. Our cutting-edge GIDC plant is equipped with the latest technology, which enables us to produce the highest quality Bis salt.
Our strict adherence to quality assurance is evident in our use of pure raw materials in the synthesis process. We ensure our Bis salt meets the highest standards. As a reliable Bis 2-Chloroethylamine HCl manufacturer, we understand the importance of this API intermediate for various APIs and advanced intermediates. Bis 2-Chloroethylamine HCl plays a crucial role in synthesizing anti-fungal agents, which are used across various industries.
Our unwavering commitment to clients has earned us a leading position in the industry, and we strive to maintain our reputation by providing the best products and services. Our focus on quality and efficiency has made us a player to reckon with in the healthcare industry. Choose us for high-quality Bis salt that meets your requirements.
"We pride ourselves on making and supplying high-quality AHPP and other chemicals globally, gaining recognition as a leading manufacturer in our country. We continually improve production techniques and use advanced scientific methodologies. All batches undergo rigorous quality control testing to meet industry standards. We are committed to providing unparalleled customer service and support."
When it comes to the production of chemicals, it is important to ensure that the ingredients used are accurate and precise. At Darshan Pharmachem, we understand the criticality of this factor, and we have a dedicated in-house team of experts who are committed to ensuring that the correct proportions of ingredients are used in the manufacturing of Bis 2-chloroethylamine hydrochloride. Our team is also responsible for overseeing the entire production process, ensuring that every step is carried out meticulously and following all of the appropriate methods and processes.

With years of experience in chemical manufacturing and a steadfast commitment to quality, Darshan Pharmachem Pvt. Ltd. has established itself as a leading manufacturer of Bis 2-chloroethylamine hydrochloride. Our impeccable reputation is built on our ability to produce high-quality chemicals that meet the specific needs of our clients worldwide. So, you can trust us to provide you with chemicals that are unparalleled in quality and reliability.
Darshan Pharmachem is an esteemed name in the domain of suppliers of Amine Hydrochloride. We have taken pride in earning a revered place among manufacturers for our steadfast commitment towards providing our clients with top-quality products that are competitively priced. Our decisions related to pricing are backed by extensive market research and analysis, ensuring that we have an in-depth understanding of the prevailing industry landscape before finalizing prices. Our ultimate objective is focused on enriching our clients' experiences, providing them with the best value, and making Darshan Pharmachem the obvious choice for all Amine Hydrochloride needs. With our focus on customer satisfaction and high-quality products, we provide an exceptional level of service that is unmatched by our competitors. Choose Darshan Pharmachem today to experience the best in quality and affordability.
| | |
| --- | --- |
| IUPAC Name | Bis (2-Chloroethyl)Amine Hcl |
| CAS Number | 821-48-7 |
| Molecular Formula | C4H10Cl3N |
| Molecular Weight | 178.49u |
| Melting Point | 210-217 C |
| Purity | 98-99% |
| Appearance | White Crystalline Powder |
| Usage | Anti Fungal intermediates |
| Country of Origin | India |
| Price | Request new Pricing at sales@darshanpharmachem.com |
| Payment terms | Cheque, Cash in Advance, UPI and Others |
| Minimum Quantity | 25kgs |
| Supply Ability | 10,000 kgs per month |
| Packaging details | 25kgs bags or drums |
| Delivery time | Within week |
| Certification | ISO 9001:2015 and StartupIndia |
| Sample availability | Mail us at darshanpharmachem@gmail.com |
| Brand | Darshan |
Connect with us with these B2B Platforms
Most frequent questions and answers